Originally published on CISION PRWEB by NEWTON, MASS. (PRWEB) September 19, 2016.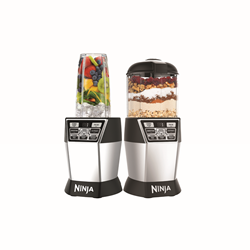 Ninja®, the technology pioneer in the housewares industry, today unveils the Nutri Ninja Nutri Bowl DUO—a transformational everyday meal-maker. For the first time ever, this groundbreaking innovation combines Ninja's powerful Nutrient & Vitamin Extraction**—breaking down fruits and vegetables to unlock their full potential†—with the all-new Nutrient Fusion* that brings fresh, vibrant ingredients together for flavorful, nutritious meals, snacks, and desserts worth savoring.
The Nutri Ninja Nutri Bowl DUO, with the exclusive, uniquely designed Nutri Bowl, is the perfect complement to Nutrient & Vitamin Extraction**, and the essential start-to-finish tool that helps users easily break out of their everyday routine. Featuring a 1200-watt motor, Precision Prep Blades, and Auto-iQ Boost™ Technology, the Nutri Bowl marries wholesome, fresh ingredients to make delicious, nutritious meals.
To celebrate Nutrient Fusion*, Ninja has created seven exciting recipe categories reflecting this new approach to inspired meal making: Veggie Fusions, Protein Fusions, Salad Fusions, Whole Grain Fusions, Sweet Fusions, Frozen Fusions, and Snack Fusions. Each category is designed to empower users to experiment with a diverse range of ingredients, textures, and flavors, so they can customize balanced and nourishing meals at the touch of a button. Now, creating variety in meals, snacks, and desserts is quick and easy.
The perfect counterpart to the Nutri Bowl is the Nutri Ninja Cup with Pro Extractor Blades® Assembly and Auto-iQ Boost Technology, which fully break down whole foods, ice, and seeds through Nutrient & Vitamin Extraction.** Ninja's powerful technology makes it easy to extract a wide spectrum of delicious nutrient juices, smoothies, and protein shakes with minimal effort. Ninja has also reimagined new recipe categories in Nutrient & Vitamin Extraction** including wake-ups, nutrient shots, freezes, and indulgences.
"We're excited to share our latest innovation, the Nutri Bowl which features Nutrient Fusion*, with consumers so they can break through their routines and elevate the everyday with this technology and Ninja recipes," says SharkNinja CEO, Mark Rosenzweig. "We developed the Nutri Ninja Nutri Bowl DUO with the belief that a good meal or snack shouldn't be complicated, and should inspire the users to create diverse, nutritious meals for themselves, their families, and their guests."
Ninja's Auto-iQ Technology with One-Touch Intelligence simplifies favorite everyday recipes with unique programs that deliver delicious smoothies, snacks, meals, and desserts with zero guesswork. And the Auto-iQ Boost option gives users the power to customize the texture and consistency of everything made in the Nutri Ninja Nutri Bowl Duo to their own personal preferences.
The Nutri Ninja Nutri Bowl DUO Includes:
1200-Watt Motor: gives users a powerful and versatile appliance with a small footprint
Auto-iQ Technology: features intelligent blending and food-processing programs with a built-in digital timer
Auto-iQ Boost: offers the ability to customize and control the texture and consistency of recipes
Nutri Bowl: with Nutrient Fusion* meal-making capabilities such as making up to a pound of ground meat or dough
Nutri Ninja Cups: 24 oz. and 32 oz. cups with Spout Lids for nutrient-rich drinks on the go
Pro Extractor Blades® Assembly: break down whole foods, ice and seeds for powerful Nutrient & Vitamin Extraction**
Precision Prep Blades and a dough blade attachment: for use with the Nutri Bowl
A 30-recipe Inspiration Guide or a 75-recipe Cookbook
The Nutri Ninja Nutri Bowl DUO is available at major retailers, starting at $129 MSRP.
To learn more about the new Nutri Ninja Nutri Bowl DUO and additional SharkNinja products visit ninjakitchen.com. Follow Ninja on Facebook at facebook.com/ninjakitchen and on Twitter at @NinjaKitchen.
*Create a fusion of foods containing nutrients from fruits, vegetables, and other foods.
**Extract a drink containing vitamins and nutrients from fruits and vegetables.
† By blending whole fruits and vegetables, including portions that are usually discarded.
About SharkNinja
SharkNinja is an innovation leader in the housewares industry and creator of the familiar household brands Shark® and Ninja®. SharkNinja provides the latest in easy-to-use innovative technology with a growing line of products that consists of Shark® cleaning and Ninja kitchen appliances. Products are sold at major retailers and through distributors around the world. Ninja and Shark are registered trademarks of SharkNinja Operating LLC. For more information, visit sharkninja.com.